One of my absolute favorite families is my friend Kelly and her adorable family! You might remember seeing her gorgeous maternity photos or the photos of darling Baby Z when she was a bit smaller. This is the first time I got to photograph all three of them as a super adorable family – and it was so much fun!  When she booked a holiday mini session, we decided to take her family photographs in Oak Glen, CA in a beautiful apple orchard at Riley's Farm.  The day of the session was cold, raining, and foggy but we decided to brave the weather and I'm so glad we did!  We got such wonderful shots of their family, and even little Z was such a happy little girl despite the weather!  Look at that toothy grin!
I swear, Z is probably the happiest baby in the world.  That smile is just the cutest!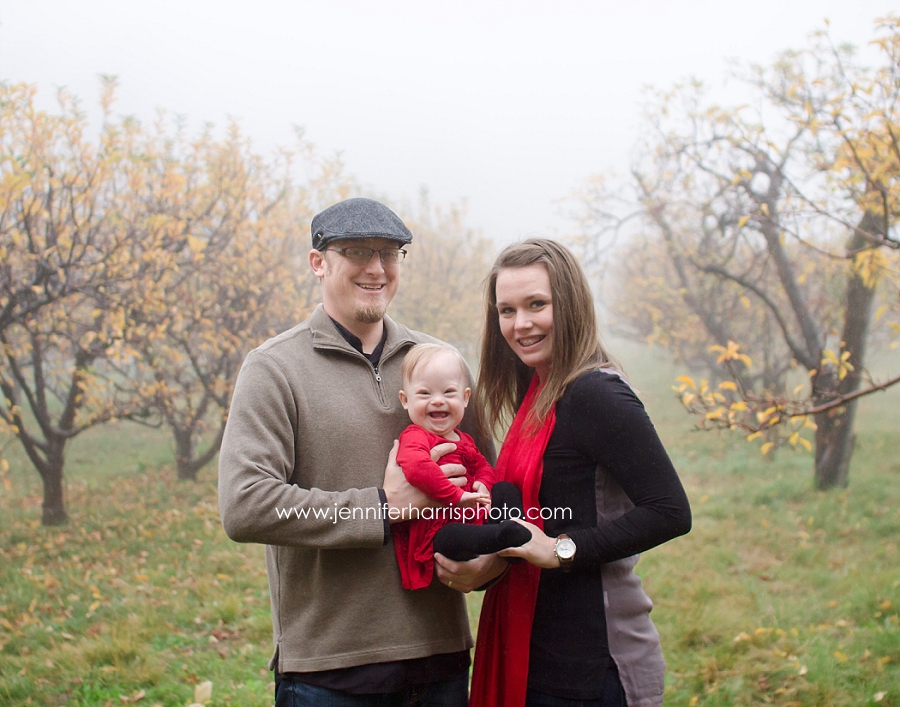 I just love the way the fog looks in the orchard.  It's so pretty, and a nice wintery shot not often seen Southern California – they don't really get seasons around there!




Z was such a trooper.  She didn't even care that she was getting rained on – she just kept right on smiling.  Don't worry though, we kept this session pretty short and then we all headed inside for some delicious hot apple cider and apple crisp at Los Rios Rancho.




Happy Holidays Nava family!  I love you all!
Jennifer Harris specializes in Hillsboro family photographs and newborn and baby portraiture in the greater Portland area.